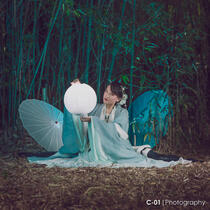 Michelle Kan
filmmaker by daylight, writer by moonlight,

chinese brush artist by twilight.
ABOUT
Michelle Kan is an independent filmmaker/videographer, writer and artist based in Te-Whanganui-a-Tara, Aotearoa.

By day she runs Fish & Swallow Productions, an independent film and online content production studio dedicated to the documenting of arts/cultural events and the spotlighting of artists, creatives and other extraordinary individuals in and around Wellington and the rest of New Zealand.

When not behind the camera or editing footage, she's also a screenwriter and author of speculative fiction. A lifelong storyteller and creative writer, she specialises in creating dynamic urban fantasy and gentle Chinese fairytales – all told through an asexual and aromantic lens.

Not to be limited in her creative outlets, she's also a Chinese brush artist, drawing from traditional Chinese brush art techniques to produce both modern and traditional-style illustrations.

Michelle is passionate about the arts, exploring her cultural heritage through her creative output, and is a lover of graphic novels, video games, action/martial arts films and parkour – all profound influences which helped her shape the content that she likes to produce.